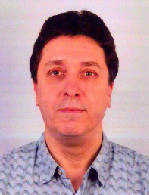 Štekl Ivan, doc. Ing. CSc.
vice-director IEAP CTU
| | |
| --- | --- |
| affiliation: | Institute of Experimental and Applied Physics CTU |
| position in committee: | Co-Chair |
| phone: | |
| e-mail: | |
| cooperation with JINR: | cooperated |
Personal data
Born:

February 12, 1962, Pardubice, Czech Republic.

Education:
Graduated at Faculty of Nuclear Sciences and Physical Engineering ( FNSPE) of the Czech Technical University in Prague (CTU), Department of physical electronics, diploma thesis: Time base of laser radar.
Postgraduate studies of Nuclear Physics at FNSPE ( FNSPE) CTU, Ph.D. thesis: Double beta decay of 48Ca.
Habilitation at Comenius University ( CU), Bratislava, inaugural dissertation: Neutron and gamma rays shielding in experiments ATLAS and NEMO.
Experience:
Junior researcher, FNSPE CTU in Prague (1987-1989)
Researcher JINR Dubna ( JINR) (1989-1995)
Researcher and lecturer, FNSPE CTU in Prague (1996-2003)
Researcher, IEAP CTU in Prague (2003-today).
Research interests:
Double beta decay
Dark matter
Low background technologies.
Responsible for grants (27)